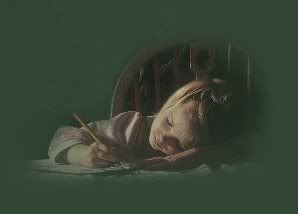 I'm rather obsessive about finding the perfect Christmas gift. I'm also obsessive about finding a good deal. I want to give adults gifts that will be meaningful to them, and I want to give children gifts that they will enjoy longer than a week. It's always been helpful to me to know has worked for other people. I'm really good at borrowing good ideas from others.
So do you want to take a peak at my Christmas list? The best part is, many of these things I bought last year, so I already know they're keepers!
I may post more later (especially about toys :)), but for now, I thought I'd stick with one idea per group. I also tried to choose things around the same price range. Warning: If you are a member of my family, these ideas are off-limits, and you must pretend you never saw this post!
The Baby
An Ornament for Baby's1st Christmas
$7.99-$17.95 (price varies widely, depending on store)
Growing up, I always loved to hang up my special first Christmas ornament. I've continued the tradition with my own children, but I've tried to choose a different, unique ornament for each one. Kids always like to hear stories about when they were babies. This way, when they hang their ornaments, I'll also be able to include the story of why I picked that particular ornament for them.
I scoured the Internet, and oh my goodness, there are some expensive ornaments out there! This one is my pick, and I found a really good deal on it! I wish it said the year; there are a lot of ornaments that do, but I like this one too much to pass it up. There is a boy and a girl version, and this website is running a deal for 50% off the girl ornament and free shipping on orders over $39.50. You can also find this ornament other places, such as on Amazon. The above link will take you to the site where I found the best deal.
The Toddler
$14.00 at Walmart and Amazon
This toy is so cool, my husband and I have fun playing with it! Each face of the cube is a button that represents a different instrument in the orchestra. You can press the buttons to turn each instrument on or off and hear how the music sounds differently. I actually bought this several years ago and my kiddos still like to play with it. Now they turn the music on and dance around it!
The 3 year old
$13.88 at Walmart
3 year olds can be tough to buy for. They aren't babies, but they aren't quite old enough for big kids toys with lots of small parts. My kids love their doctor kit. This Fisher Price version is great and has stood up to a lot of play. We even played vet hospital once and used the kit to treat all of their stuffed animals. And the kit must be good because all the patients survived!
$29.99 at Toys R Us
Note: You can sometimes find this cheaper elsewhere. Zing also makes one that is very similar.
Shhh, this is what I'm getting for all my nephews AND my niece! I know this is a large age range, but this is a fantastic toy. Any kid in this age range will be upset if you get one of these for one and not the other. Yes, even girls will want one, especially with the popularity of 'Brave.' We got this for my Superhero last Christmas. He was five and requested a bow and arrow (after seeing Disney's 'Robin Hood'). He LOVED it, and it is still one of his favorite, if not THE favorite toy. Every kid who comes to our house loves the bow and arrow. When he took it to preschool for show and tell, he had a roomful of envious preschoolers wanting to try it out. And the best part is, the arrows are really safe. They don't hurt if you, by chance, should be hit with one, and trust me, I should know. They haven't caused any damage to my house. And, you can get extra ones if needed. After a year of use, a couple of his arrows are showing signs of wear, so guess what the Superhero is getting in his stocking?!!
The Teenager
An Experience
I don't have any teenagers on my list this year, and I'm not really looking forward to when I do. But if I did, I think I would try to give them an experience as a present. I get tired of stuff. If I could get by without giving my kids a new arsenal of toys for Christmas, I would. But by the time they're teenagers, I'm hoping to give it a shot. If I think about the toys I received for Christmas growing up, I can remember very few. What I remember most, and what is special to me is the things I did with my family. I remember the vacations and playing games together. I remember the laughter, the fun, and the times I felt special. So, if I had a teenager to buy for, I would get him or her a movie gift card, concert tickets, tickets to an amusement park, or a special date with mom or dad. I can just picture my boys loving to go to some kind of professional sports game with their dad. I've heard of families saving their money and going somewhere like Disneyland as their Christmas gift. I think that's a great idea. Instead of more stuff, I would rather my kids have memories.
A Charitable Donation
$4-$5,000
The adults in my family have decided not to give each other Christmas gifts this year. Instead, we've decided to pool the money we would have spent on those gifts and give it to someone in need. I think we've decided to go with Compassion International. They have a Christmas catalog where you can choose specifically where you want your money to go. For $4, you can protect a child from malaria, and the prices for gifts go up from there. We are leaning towards paying for the care of an at-risk child for 3 months. We also like the gift that gives an entire family clean water for life. We like the idea of doing something both short term to help and something that would change someone's life forever. It's very humbling to think that while I'm trying to decide if I should get an iphone, someone else in the world doesn't have clean water or enough to eat. I, for one, have enough stuff. And if I have the choice of getting some THING for myself for Christmas or changing a family's life with something like clean water, I don't need another Christmas gift ever again! If someone gave me a card that told me they'd provided money for something like that as my Christmas gift, I would probably be so very touched, I'd start crying right there!
I know I spend far too much time obsessing over finding the perfect gift. But when I give a gift, it's more than a gift; it's a token of my love. It makes me feel good when I see someone enjoying what I picked out for them. It is very, very true that it is more blessed to give than receive. And I'm looking forward to a lot of blessings this Christmas.